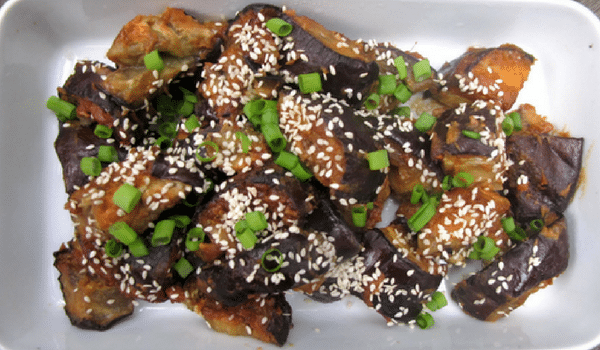 Serves: 2-4 | Prep time: 10 minutes | Cooking time: 30 minutes

For those with allergies or intolerances this recipe is dairy free
Ingredients
1 large eggplant
2 tbsp sesame seeds
2 shallots, chopped
tbsp Extra Virgin olive oil
Miso dressing:
3 tbsp miso (red or white)
1 tbsp sugar
2 tbsp water
2 tbsp mirin
1 tsp grated ginger
Method
1. Preheat the oven to 200 degrees Celsius (fan forced).
2. Cut the eggplant into bite sized cubes.
3. Drizzle some olive oil over the eggplant, place on sheet of baking paper and pop in the oven for 20 minutes (until soft).
4. Whisk together ingredients to make the miso sauce. Pour sauce over eggplant and toss to coat. Allow to cook in oven for a further 10 minutes.
5. Remove the eggplant from the oven and transfer to a plate. Sprinkle with shallots and sesame seeds and enjoy!
—
For more healthy and delicious recipes, click here.