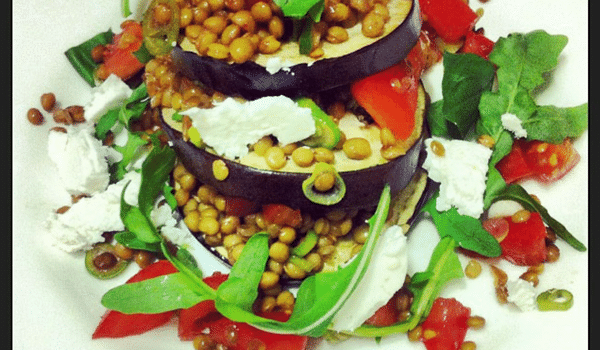 Serves: 4 | Prep time: 25 mins | Cook time: 20 mins

For those with allergies or intolerances this recipe is gluten free
Ingredients
2 large eggplants, cut crossways into twelve 1.5cm (thick slices)
2 x 400g cans brown lentils
4 shallots, ends trimmed, thinly sliced
2 tomatoes, diced
1 tbsp red wine vinegar (or balsamic vinegar)
2 tbsps extra virgin olive oil
120g goats cheese, crumbled
1/3 cup shredded fresh basil
60g baby rocket leaves


Method
1. Grill the eggplant on each side for roughly 5 minutes.
2. Place lentils, shallots and tomatoes in a bowl and drizzle the vinegar and half the olive oil on top. Season with salt and pepper and toss to combine.
3. Place 1 eggplant slice on each plate and divide half the lentil mixture among the eggplant slices. Top with half the goats cheese and sprinkle with half the basil. Continue layering with the remaining eggplant, lentil mixture, goats' cheese and basil, finishing with a slice of eggplant. Top with the rocket. Drizzle over the remaining olive oil to serve.
—
For more healthy and delicious recipes, click here.