Zucchini Noodle Salad with Avocado & Edamame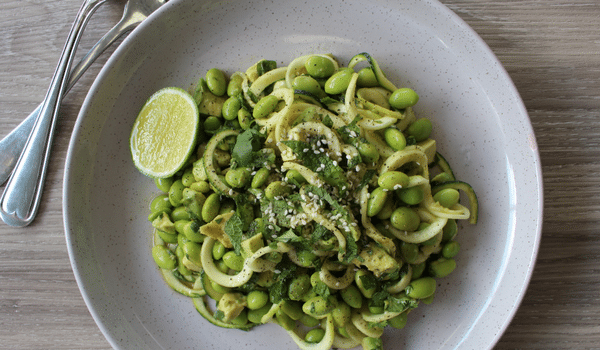 Serves 2 | Prep time 30 mins
Ingredients
400g Edamame beans
1 avocado
2-3 zucchinis
1 small handful fresh mint, roughly chopped
1 small handful fresh coriander, roughly chopped
1 teaspoon sesame seeds, to serve
Dressing:
2 limes
2 teaspoons sesame oil
2 teaspoons salt reduced soy sauce
2 teaspoons rice wine vinegar
2 tablespoons extra virgin olive oil
Method
1. Prepare Edamame beans according to packet instructions.
2. Meanwhile, use a spiralizer to make noodles out of the zucchinis.
3. To make the dressing, whisk together sesame oil, soy sauce, rice wine vinegar and extra virgin olive oil. Remove a cheek from each lime and juice the rest of the lime. Whisk lime juice into the dressing.
4. Just before serving, cut the avocado into small cubes.
5. In a mixing bowl, place zucchini noodles, edamame beans, avocado, mint, coriander and pour over the dressing. Toss the salad to coat the vegetables in the dressing.
6. To serve, divide the salad over 2 plates. Sprinkle with sesame seeds and season with a generous amount of freshly cracked black pepper. Serve with a cheek of lime and enjoy!
—
For more healthy and delicious recipes, click here.
This recipe was created with the help of Melissa Meier, who is an intern at The Biting Truth and is currently studying her Masters in Nutrition and Dietetics.