Banana, Coconut & Strawberry Muffins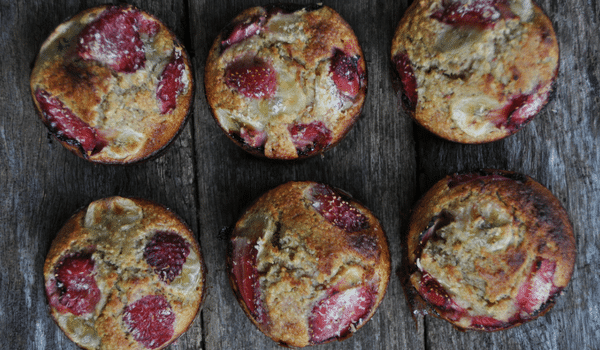 Serves: 10 | Prep time: 15 mins | Cook time 30 mins
For those with allergies or intolerances this recipe is dairy free
Ingredients
6 free-range egg whites
½ cup of your preferred oil
1 cup almond meal
¼ cup maple syrup
1 cup self raising wholemeal flour
1 ½ tsps ground cinnamon
4 strawberries
2 medium bananas
1 tsp chia seeds
1/3 cup dessicated coconut
Method
1. Preheat the oven to 200 degrees Celsius. Lightly grease muffin tins and line with baking paper.
2. Mash one of the bananas in a small bowl.
3. Whisk the egg whites in a bowl and add oil, almond meal, maple syrup, chia seeds, mashed banana, flour and cinnamon
4. Whisk together until well combined.
5. Divide the mixture evenly into the tin and top with sliced strawberry, banana and coconut.
6. Bake for around 30 minutes and stand for 5 minutes prior to serving.
—
For more healthy and delicious recipes, click here.