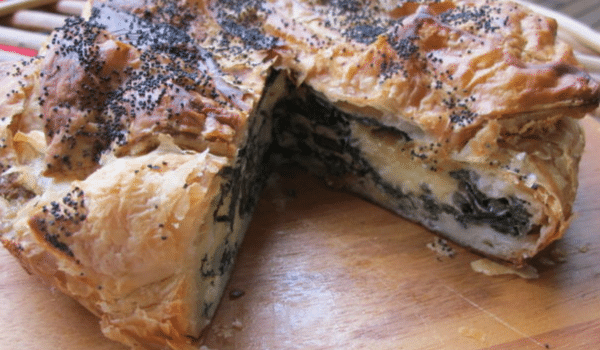 Serves: 4-6 | Prep time: 20 mins | Cook time: 35-40 mins
Ingredients
2 sheets reduced fat puff pastry

1 bunch silverbeet, stems removed and chopped

1/2 brown onion, finely chopped

100g reduced fat feta cheese

1/2 cup reduced fat cheddar cheese, grated

4 eggs, lightly beaten

1 egg yolk, lightly beaten

2 tsp sesame seeds (or poppy seeds)

Pepper, to taste

Round, 25 cm oven proof dish
Method
1. Preheat the oven to 180 degrees celsius fan oven
2. In a bowl, place silverbeet and onion and cover. Place in microwave for 3 minutes or until spinach is wilted.
3. Squeeze out excess moisture and set aside to cool.
4. Once the spinach is cool, add the feta, cheddar cheese and eggs. Season with a little pepper.
5. Line the greased oven dish with one of the sheets of pastry.
6. Fill with spinach mixture and create a lid on top with the second pastry sheet.
7. Brush the top with the egg yolk and scatter sesame/ poppy seeds on top.
8. Place in oven and cook for around 35-40 minutes.
—
For more healthy and delicious recipes, click here.