Pesto Zucchini Noodle Salad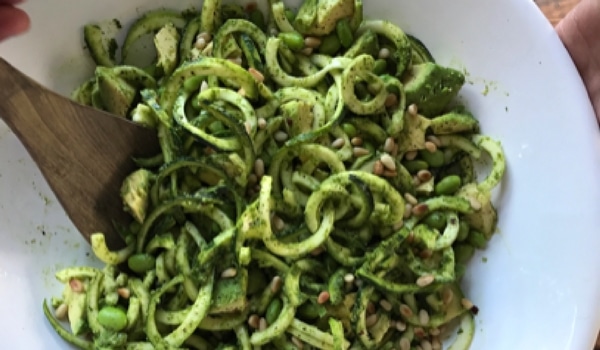 Ingredients
4 zucchinis
1 avocado, diced
½ cup edamame beans, shelled
½ cup pine nuts, roasted
Salt and pepper to season
Pesto sauce
2 tablespoons pine nuts, roasted
2 tablespoons parmesan cheese, grated
¼ cup olive oil
1 small lemon
1 cup kale, chopped
2 cups basil, chopped
1 clove garlic, chopped
pinch of salt
Method
To make the pesto sauce, combine all ingredients in a food processor and mix until you get the desired consistency. Can add additional water or oil to change texture.
Using the Spiralizer, spiralize all the zucchinis.
If using frozen edamame beans, defrost by placing in boiling water or heating in the microwave.
In a bowl combine zucchini noodles, diced avocado, pine nuts and edamame beans. Mix the pesto sauce through the salad and season with salt and pepper.