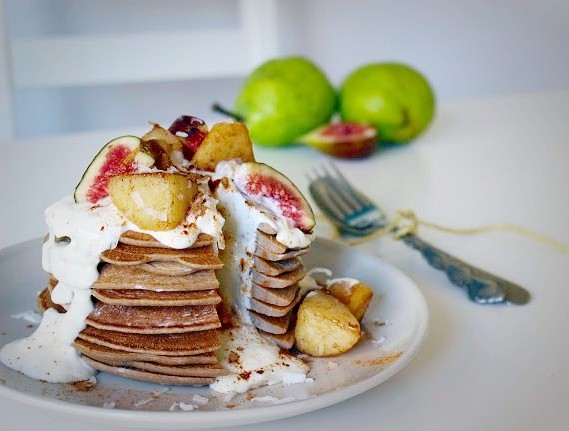 Pear & Cinnamon Pancakes with Coconut Yoghurt
Serves 4-6 | Preparation time: 10-15 minutes | Cooking time: 20 minutes
Ingredients
Pancakes:
1/2 medium pear (skin on), diced
2 cups water
1 1/4 cups buckwheat flour
1 teaspoon baking powder
Pinch of salt
2 medium eggs (1 whole egg and 1 egg separated into yolk and egg white)
1 teaspoon vanilla extract
2 teaspoons of ground cinnamon
1 1/4 cups of reduced fat milk
Olive oil spray
Coconut yoghurt (to serve)
Cooked pears:
1 teaspoon unsalted butter
1 medium pear, cubed
1 teaspoon cinnamon
1 teaspoon brown sugar
Directions
To make the pancakes:
Step 1. Place water and diced pear in a saucepan and bring to the boil. Leave to cook for 10 minutes or until pear is tender then remove from the boil and puree.
Step 2. Meanwhile, sift the flour, baking powder and a pinch of salt into a large bowl.
Step 3. In a separate bowl, add 1 whole egg, 1 egg yolk, milk, vanilla extract and cinnamon and whisk together.
Step 4. Create a well in the flour mixture and pour in the egg mix and pear puree, using an electric beater or whisker to combine. (Note: pear puree will make mixture slightly lumpy).
Step 5. In a separate bowl, whisk the remaining egg white with an electric beating until soft white peaks form. Fold this mixture gently into the pancake mixture.
Step 6. Over medium heat, lightly spray a non-stick fry pan with olive oil. Spoon ¼ cup pancake mixture onto the pan, cooking for approx 2 minutes on each side (or until golden).
Step 7. Serve up with coconut yoghurt, cooked pears (see instructions below) and a sprinkle of cinnamon and enjoy!
To cook the pears: 
Step 1. Heat the butter over medium heat and add diced pears.
Step 2. Add the cinnamon and sugar and stir frequently for 3-5 minutes, or until lightly browned.
FROM IMPERFECT TO PERFECT: