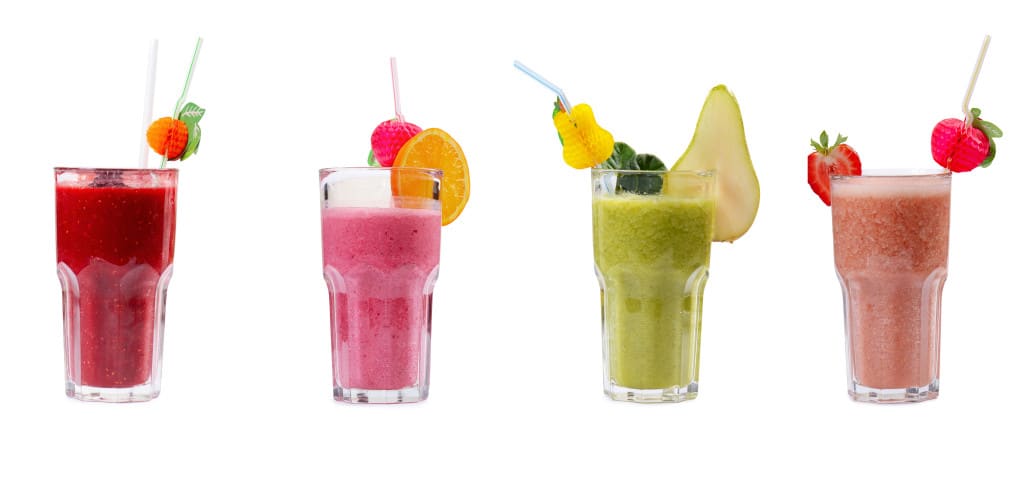 Finishing off a summer's day at the beach with a smoothie is all the rage at the moment. A large frosty 'Mango Fruit Fruzie' that's also good for you sounds almost too good to be true right?…To be quite frank..sometimes it is!
Leading health experts in Victoria have been investigating the sugar and fat in 40 cool drinks sold at well-known café chains and fast food outlets.
Claims such as "reduced fat", "low carb" and "high in fibre" don't always give us as consumers the full picture, in fact the 98% fat –free Mango Fruit Fruzie from Gloria Jeans was found to contain 31 teaspoons of sugar1. This is 5 times the World Health Organisations (WHO) daily recommendation for added sugars. With the movement towards fresh, local, natural and organic food labels, it seems many food producers are pushing these 'healthy' labels as a marketing tool.
If you're looking for a cool and tasty drink this summer then here's 4 tips to help you choose:
Incorporate some protein
This is especially important if your smoothie will be replacing a meal. Choosing drinks with a source of protein such as reduced fat natural greek yoghurt will assist with satiety and prevent you from munching on other nutrient poor snacks later on.
Choose Vegetable base
As a general population, we Aussies are not getting enough veggies. Choosing smoothies or juices that contain mostly vegetables will help reduce the sugar content of your drink.
Less is often best
These days everything is supersized, including smoothies and juices. Choosing a 'small' sized Boost Juice instead of the 'original' size can save you up to 200 calories!
If you can, make your own
Unless you add it yourself, making your own smoothie will eliminate the added sugars. Choose skim milk to cut down on your saturated fat intake and to lower the overall energy content of the drink.
Try our delicious banana and chai breaky smoothie !
References:
https://livelighter.com.au/news/Healthy-summer-drinks-hide-more-kj-than-a-Big-Mac-health-experts-warn