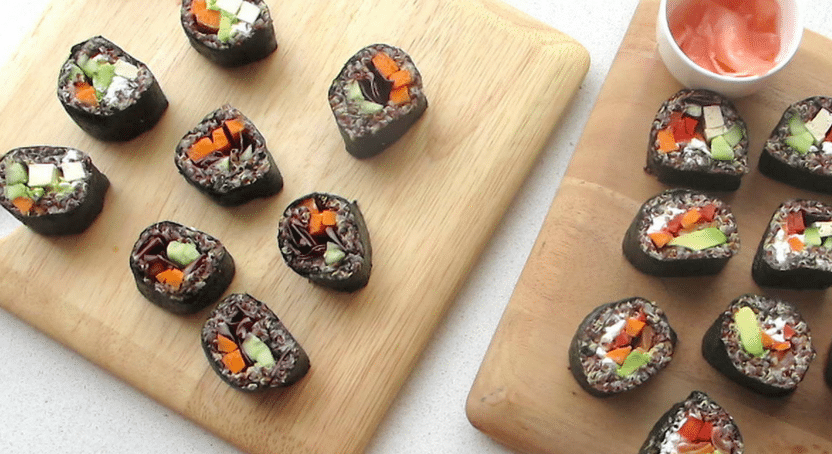 You're not alone if you're left feeling full to the brim on Christmas Day. Christmas Day feasting combined with festive eating before and after Christmas can leave many people with an extra few unwanted kilos by the time New Year's Day arrives. Christmas is a time of celebration so it's silly to completely deprive yourself and feel left out. When it comes to Christmas Day, going over board on nibbles can contribute to a lot of extra calories with little nutrition. Here are five of our favourite nutritionally balanced nibbles to help you avoid gaining (too much) weight over the Christmas period.
 1. Vietnamese Spring Rolls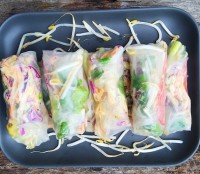 Vietnamese Spring Rolls are always a crowd pleaser and a good opportunity to increase your vegetable intake on Christmas Day. Our fave fillers are cucumber, capsicum and grated carrot.
2. Raw vegetable burgers

These 'raw' burgers are so cute and lots of fun for the kids!. Just slice up carrots (nice and thin) and then add a slice of cucumber, tomato and cheese. We've then topped with some sesame seeds to make the carrot look like a burger bun! You can make your own versions with beetroot or any other vegetables!
3. Pear slices with ricotta cheese, pomegranate seeds and pistachios.
If you're looking for a nibble that is a little sweet and super fresh – then this is for you! All we've done is slice up some pear and top with ricotta (we've used low fat ricotta, but cottage cheese would be another good option), then added some pomegranate seeds (which provide a lovely fresh pop) and pistachios. You could try adding any nuts and even sprinkle over some shredded coconut.
4. Mini Frittatas

These are a mini version of our usual Frittata recipe. Simply pour the frittata mixture into muffin tins to get this mini ones. This is a great way to use up left over veggies! They also provide a good source of protein, so will keep you feeling fuller for longer.
Get frittata recipe here: http://www.thebitingtruth.com/project/golden-grape-tomato-frittata/
5. Quinoa Sushi

Quinoa sushi is a fantastic healthier alternative to the usual sushi, as quinoa is a wholegrain carbohydrate, so will give you a steady supply of energy. You can even lay out all the ingredients and let your guests make their own rolls as a fun and interactive activity!
Grab quinoa sushi recipe here: http://www.thebitingtruth.com/project/quinoa-sushi-2/
For more tasty recipe ideas, click here!